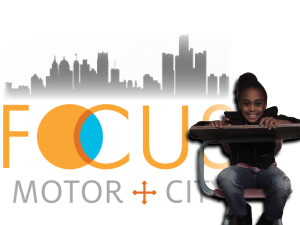 "Empowering Detroit Children Experiencing Poverty to Succeed in School"
IN DETROIT, 59% of children live in poverty. The highest rate of the 50 largest cities in the U.S. Some of the effects of poverty on children are poor academic achievement, under resourced schools, food insecurity, poor nutrition, substandard housing and lack of access to basic needs. By 4th grade minority children on avg. are already 3 years behind and have a greater chance of dropping out in H.S. and becoming the next generation of dependent families in poverty. By no fault of their own they are brought into this world with a great deal of challenges. We believe they can succeed in school and reach their potential with support. This must happen before they enter Secondary School.
FOCUS Motor City exists to empower them to have the skills and proficiency so that they can succeed, access opportunities and live future sustainable lives. We partner with Detroit Elementary schools, families and organizations to ensure K-5 students achieve their academic grade level in all subjects before entering Secondary school. We do this through addressing education needs (such as reading, tutoring, textbooks, school supplies), food insecurity (weekend food sacks, emergency pantry) and resource needs (emergency clothing, hygiene, and household items).
Contact Information
Eric Shanburn- Center Director
248-671-4483
4750 Woodward Ave
Detroit, MI 48201
Website
For more information, visit the FOCUS Motor City website at www.focusmotorcity.org
.
.